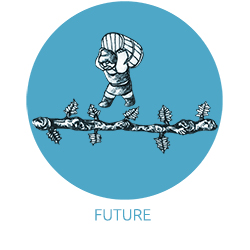 Future will always be a projection, an abstract sketch of the destiny each of us tries to place in the context of his/her own wishes and aspirations. We are accustomed to "plant" perspectival reference points in order to trace the paths we want to cross.

Developing in the wine universe, Oprişor Winery's strategy has in view to never waste inventivity creativity and freshness. Picking up people's expectations, we try to create original wines, i.e. performance wines, every year, but also to consecrate the existent series by imprinting them value and consistency.

Wine is one of national culture's reference points. Therefore, one of our aspirations is to take into consideration as many and as diversified types of cultural and educational actions.

We want those who are going to approach our wines discover them beyond the common perception, share with us the values we trust in and get acquainted with an area where the inmost Romanian spirit is well represented – Oltenia –, an area full of the unmistakable features we try to show to the whole world.